MUSTANGS!!!! Do they excite you?? They excite us!!! On Thursday we had sexy newbie Bree and hot favourite Taliah come in for some steamy full-on girl/girl sex… We heard some loud VRROOOOM VRRROOOM's coming from the driveway…. The mustang was here!!!! A beautiful shiny white 67 convertible with cowhide interior…. We all got a little wet and the sound of it!
The owner of our sweet ride for the day was a lovely man who made the day a whole lot of fun, he had some great ideas for shots, DJ'ing and was a lot of help assisting us…
We all crammed into the sexy white beast (this car was definitely designed for looks rather than comfort!) but it was totally fine, I was squished in between two gorgeous ladies, so I couldn't really complain! And WHAM!!! Bree's finger got caught in the door!! Those doors are a killer if you're not used to them! The poor lovely! I rand to get her some frozen veggies, just in time to stop the swelling… She was so brave though, determined to do the shoot despite being in a great deal of pain! Luckily it was her right hand (she's a leftie) so it could have been much worse.
Once Bree had recovered, we started the engine and zoomed off… The vibrations rumbled through our crotches and up through our bodies, cool blues and hot funk pumping the wind blowing our hair all around… We stopped off for a sugar hit, loading up on chips and sour worms before driving down the long dirt road to our pristine location…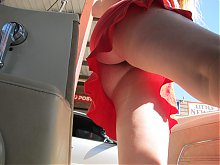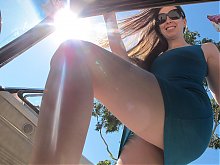 It was all systems go when we got there, the sun was dropping fast… It was time for Bree's mustang-driving lesson! Lucky girl, she was so excited! After a couple of stalls she got the hang of it and was whizzing around like a pro, massive grin plastered across her face.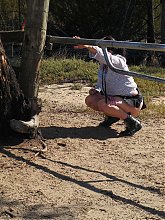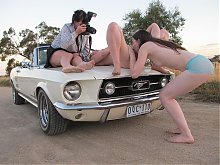 We started off with some hot girl/girl lovin' inside the car for the video, creamy skin colliding on the white leather seats… Occasionally being interrupted by a dog walker or jogger (there were a few people around that day!)… We had to keep chasing the light, moving the car.. The highlight for me was Bree perched naked on the bonnet as our chauffeur changed the angle of the car! "Best hood ornament ever" as he put it. Once we were done the light was fading FAST. Thank god for ON CAMERA FLASH!!!!!!!!