Yesterday we met up with the lovely British babe, Kimberlie! And guess what? She brought her boyfriend Eric along for a ride! They turned up as excited as can be, pumped for some hot outdoor sex…
We shot a road trip video, stopping at the service station to fill up and get some hot chips before driving out to the beach for some cunnilingus on the bonnet of their car… It just looked so damn hot that all the local perves gathered around for a good look despite us chasing them away…
This was a little too much for the gorgeous, loved-up couple so once Kimberlie had cum, we were back in the car to find somewhere more private. We drove around for a bit and came across a dirt road with golden paddocks on either side-perfect place for some afternoon delight!
Much more comfortable now, the couple fucked like crazy against the car, Kimberlie moaning loudly as her man fucked her just right….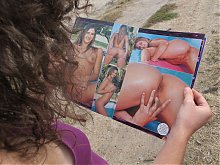 After that we dined on subway sandwiches and wandered around looking at the strange pile of abandoned fishing and porno magazines… We knew a lot of mischief had gone down in this spot! The used condoms were a bit of a giveaway…
After that, the light was too glorious to miss so I shot a rather sexy solo set of Kimberlie washing their car… All drippy and wet in her white singlet and denim cut-offs…..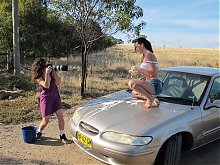 We really enjoyed working with these lovely travelers, they were so thoughtful lovely and funny…. Not to mention hot!!