Musical Monty Loves an Instrument Between Her Legs
Monty, an eccentric and free-spirited musician, had always found solace and empowerment through her collection of instruments. Adorned in a silky nightgown, she finds herself drawn to three particular instruments: her beloved saxophone, her favorite butt plug, and her trusted vibrator.
Monty has a special bond with her saxophone, which she affectionately referred to as her "Sexophone." Its sleek design and smooth, cold metal brings her a unique pleasure that resonates deep within her pussy. The saxophone is more than just an instrument; it's an extension of her identity and an expression of her sensuality.
With delicate care, Monty set her Sexophone aside for a moment and reaches for her second favorite instrument, her butt plug. It has a different kind of power, one that allows her to explore her desires in a deeply private way. It provides a different type of connection, one that is purely for her pleasure and gratification.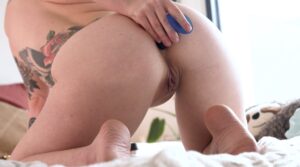 Monty then reaches for her favorite instrument in the collection. Her vibrator. As she holds it against her throbbing clit, she feels a surge of anticipation and excitement. It's a tool that allows her to experience pleasure on her own terms, empowering her to embrace her sexuality fully. She understands the importance of self-love and self-discovery, and her vibrator is a symbol of that exploration.