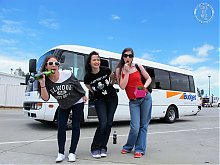 Annie, Ramone and I rocked up to the office at 9.30 last Tuesday pumped and ready to dominate this year's Xmas Orgy. Annie had stayed up late carefully planning everything that was to happen over the two raunchy days…. This turned out to be a fairly excellent idea…. We rushed around gathering everything we needed to take, preparing sandwiches, cleaning gear and double checking our lists.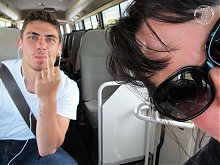 At 10.30 our sexy ladies started arriving looking fresh and beautiful and most importantly totally randy and ready for action!! Aeryn, Angie, Rhianna, Taliah, Frances and Leah!! Once everyone had arrived it was time for the briefing. We went through the schedule and made sure all the girls were familiar with the plan… We loaded the car full of heavy gear, bottles and bottles of delicious champagne generously donated by blankname (thank youuu!) and stunning, horny women!
It was a two hour drive down the Great Ocean Road in our spacious rented bus (generously paid for by The Anonymous Donor, thank you!! XOX), so the girls spent the time chilling and getting to know each other and the G11 was passed around for some cute little road-trip shots! We had a pit-stop on the way where we loaded up on soft drinks, chocolate and fresh cherries and strawberries for the road (and to do naughty things with later!) and Rosie the sandwich girl handed out everyone's lunch!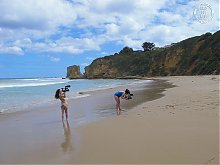 After that it was time to get on or way…. The girls stripped off and squeezed into heir little swimmers in the bus while we zoomed along to our location. Big orange rocky cliffs surrounded the pristine and private Australian beach, where we planned to shoot the first part of our naughty video…. The girls played in the water in their cute little bikinis, the rough swell trying to steal them! They clung to each other squealing, splashing and frolicking while the ocean lapped at their sexy bodies… Every now and then a big wave would come along and totally bowl the girls over! Annie and I were out in the thick of it, knee-deep in the surf! I had trouble keeping my shot a few times because the water was just that strong it would almost knock me over!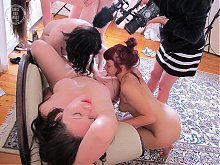 It wasn't long before our frisky females were all totally starkers and tasting testing each other's tantalising bits and pieces! Before we knew it we had an all-out girly fuck-fest on our hands but we weren't complaining, they looked so fucking hot eating each other in a pile on the sand! It was time for a champagne refresher… We jumped back on the bus after that and headed to our gorgeous little old-fashioned beach cottage (also generously supplied by The Anonymous Donor!) where we were to stay the night….
The talent quest was next on the agenda, WOWWWW. These ladies have got some pretty fucking sexy skills I tell you what!!!!! But you'll just have to wait and see…. Dinner time after that, we munched on beautiful potato salad Annie made and various BBQ'd meat and yummy bread and vegies…. Naked dinner in the sun is hot! It mad us feel like dancing…..
Everyone got into their party clothes for an incredibly steamy dance-off! I even jumped in to share some mad-stupid dance moves with everyone! The dancing quickly turned into a massive horny make-out session that quickly descended into a full-scale orgy on the grass, bathed in afternoon sun! Have you ever seen a cunnilingus circle? You will soon!!!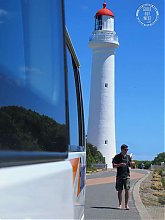 After another little break, the girls got into their cute little nighties and PJ's for some naughty confessions in the beautiful, old-fashioned lounge room…. The highlight of the whole experience would have to be the surprise Leah had in her pants…. A STRAP-ON. Wow. Watching these randy girls pounding each other was pretty much the one of sexiest thing I'd ever seen! They got as much (if not, more!) pleasure from fucking each other with it as they did being fucked by it! I thought I wanted to try one before… Droool…
It was time for bed after their wild romp in the living room and everyone hit the hay like good little girls… Fucking all day really wore hem out! I woke up hours before everyone the next day so I had a play with the G11 until everybody had crawled out of bed. We all had a massive awesome breakfast and then there was one last skinny-dip before it was time to roll-out…
Annie shouted us some junk food for the ride back and then it was time to hit the road! We stopped to grab some hot chips, fish, burgers and corn jacks for lunch and found an awesome little country op-shop to dig through while we were waiting… I got the sluttiest little pink skirt especially for shoot days! I think you might like it…. Once we got back to our neck of the woods, we picked up Lil' Kim, Ramone's lovely puppy and GOW mascot, she was so excited to see him that sh didn't stop squealing and licking him on the face for the rest of the way home!
Overall a fucking fantastic couple of days, we got a shitload of spectacular content, hilarious shenanigans, killer BTS shot by everyone and LOADS of fun times had by all! And so smooth!! what a delight, thank you to everyone who was involved!!!!