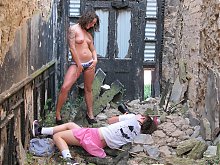 Two stunning American girls showed up in our office last week! Nikki Silver and Luka are bright bubbly girls with hearts of gold. Hard working chicks who love being healthy and having fun. They were only in town for a few more days so we had to make the most of our limited time with them…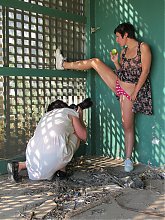 On Monday we all crammed into the car for a bit of a road trip into the country… We found some stunning locations! Annie shot the lovely Nikki draped over a rustic-looking petrol bowser at an abandoned petrol station. A massive truck pulled in next door and the driver watched casually as Nikki flashed her hairy pussy and beamed her stunning smile, playing around in her pretty little outfit, totally confident and carefree…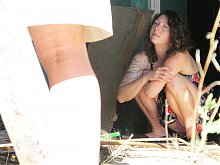 We kept on driving and stumbled across a burnt-down old pub. We had to stop for a look! Lucky we did because inside was AMAZING!!! I shot Luka in the hallway, her hairy muscly body contrasted perfectly against the burnt door frame and rubble… So sexy! She moves so well and definitely knows how to work the camera.. After Annie shot Nikki again, (looking like a pretty senorita in a floral dress against a green background, dappled light wrapping around her body) We were off on our way again to find the perfect spot for Luka's next set.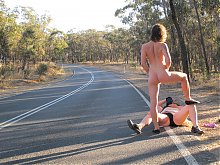 We eventually found it. The side of the road, a nice bend with paddocks and trees on either side, the ideal spot as we could see and hear cars coming from far away… Annie shot this stunning set of Luka, desperately trying to hitch a ride back to he states… I'm still waaay too frightened to do risky shoots where we might get caught, people's verandahs, public places etc. I don't know if I could handle the confrontation! It seems need to be able to relax and zen out a bit when I shoot, I'm never happy with sets done under pressure… Hopefully someday soon I will grow my photographer's balls!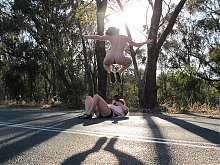 We zoomed off to find our next setting and drove around for a while until we found a beautiful water-hole where all the locals were taking a dip and splashing around…. Our furry friends did a sexy dance for each other on the bank, gradually peeling their clothes off and eye-fucking each other until they end up naked and putting on a sexy wank-show for each other…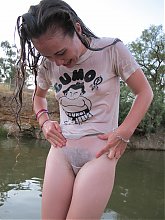 We had to wrap this up early as there were all too many young humans about and we didn't want to corrupt any delicate little minds. We decided it was to good an opportunity to miss, so we all went for a little swim (the weather was absolutely sweltering!!! Ughhhh!!). After we all got wet the resident bogans decided they had a problem with us and came down with their UDL's to get all in our faces but it was OK, we didn't let them intimidate us and we were done swimming so we just shuffled off home!