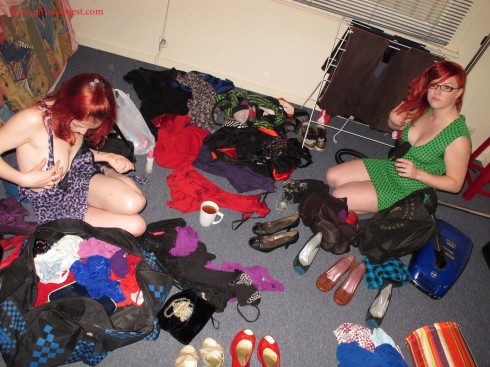 Last week we shot new girl, Sofia, in her very first girl/girl with the experienced and ever-popular, Jette. It was Jette's birthday so we had a party! These two look so good together with their matching skin, nipples, hair and pussies!
Sofia met us in the office and then it was time to get the balloons…. We had to cram them in the back seat of the already packed car with Sofia but she didn't complain at all!
Everyone had a go on the G11 on this fun-filled shoot so the BTS is AWWWESOME!!
Everyone helped create the set! We had a ball wrapping streamers around everything and arranging balloons! The end result was pretty zazzy, with lotsa poppin' colours and cool textures….
The shoot, although it looked amazing, made a BIIIIIG mess. So everyone helped clean up too! All round a fun day with lots of great moments.
Xox, Rosie.