Yesterday we shot Daina and Evie in a sweet little girl/girl…. It was one of those days where the cosmos was fighting us at every turn!
Evie showed up at the office all fresh and as lovely as ever but Daina was late and turned up late with no voice! We were supposed to shoot at Daina's house but all her housemates were chucking sickies so because they were home we couldn't! Then there was the fingernail dilemma, both girls had to sit down and file all the gnarly torn and scratchy edges down… Pussies don't like sharp things!! To all models: please, PLEASE make sure your nails are short and well rounded and smooth before your shoots!!! Nobody wants a cut-up giney! (Actually I'd like this rule to apply to everyone – for me there's nothing more off-putting than long, manky, jagged, crap-encrusted fingernails!! All I can think about when nails like this are how much I WOULDN'T like to have them inside me!)
We started the video outside a corner shop where our beautiful girls bought some bread and the paper… Sort of a lazy afternoon theme… They stop for a little kissy-time on the way home and run back giggling when it starts to sprinkle with rain…. Our cue to high-tail it!
When we eventually got to our backup location at one of Annie's friend's houses, he arrived home at exactly the same time and we had just under an hour before we got kicked out! So we did a bit of a power-video which proved to be a little too hectic for delicate daina, with all the directions flying everywhere, trying to get the lights right, forgotten batteries, dialogue…. She recovered super-fast, however, so it was back to the action! We finished the first part of the video and packed up super-fast. We piled back into the car and sped away to our next location… Annie's house!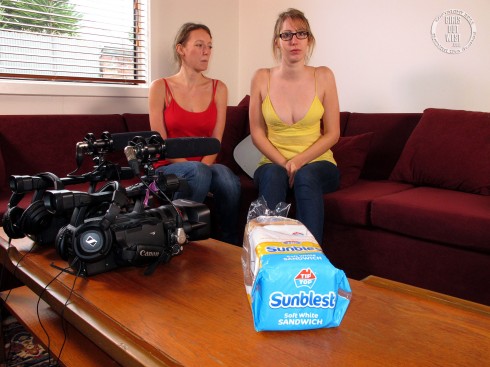 We finished their sexy movie there, everyone was much more relaxed and comfortable once we arrived, so it was pretty smooth sailing after that! They had a lovely play on the couch, rolling around, kissing and enjoying each other's breasts… Then the girls hung out on the floor in their jammies for the photos….
Despite all the obstacles we faced that day, we got some amazingly erotic content in the bag for you, our treasured members!
Xox, Rosie.